McMahon & Associates offers investigative support for the legal profession. Criminal and civil investigations are conducted in a timely, professional and confidential manner from the onset of the investigation through trial. We assist attorneys in compiling background and financial information on witnesses, corporations, businesses and individuals to aid case preparation. Mr. McMahon is an expert in interviewing and interrogating witnesses, conducting pre-trial discovery and analysis, and aiding attorneys preparing for trial.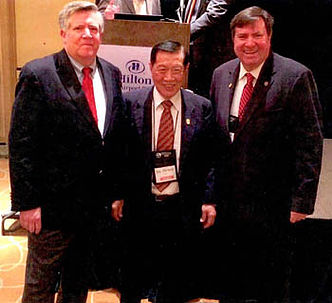 Rory McMahon with brother Gerald, and
renowned forensic scientist Dr. Henry C. Lee.
.
As a Certified Legal Investigator, Rory McMahon's background in Federal law enforcement and 40 years of experience qualify him to conduct both complex legal investigations, such as RICO, to the more routine matters, such as locating witnesses and conducting interviews.
Mr. McMahon has had extensive training during his career in the areas of financial investigation, money laundering, surveillance, substance abuse, probation / parole supervision and sentencing matters. Rory is currently undergoing training and certification in Computer Forensics.
In June, 2005 Rory, after one year of diligent study, passed the difficult examination for Certification as a Fraud Examiner (CFE); and was so designated by the Association of Certified Fraud Examiners. This new certification further enhances his credentials and standing as one of the premier fraud investigators in the world.